Wednesday, May 18th, 2005 at 7:51 am by Daniel
One of the main occupations in Alaska is dreaming up clever new ways to get one's hands on tourist dollars. We get a lot of tourists (and why not? It's a great trip, everyone agrees) and like tourists everywhere, they like to buy novelties and trinkets.
This novelty postcard falls near the bottom end of the taste scale, but I'm sure it sold handsomely. I found it on eBay, but did not buy it: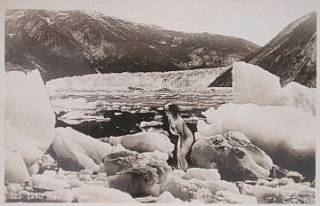 This "real photo" postcard dates from the 1950s or so. The nude woman is obviously what the kids these days call a "photoshop" , but here she's been added to the scene in the darkroom with scissors and paste. There's no way anyone could stand safely on that jumbled ice. But still, it's a cute postcard that probably moved briskly off the racks.
The glacier in the background is the Taku Glacier south of Junuea, and it's a popular destination for cruise visitors. Some of the bolder cruise ships enter Taku Arm and approach pretty near the glacier, bumping aside icebergs as they go. But there's a brisk and thriving business in Juneau selling day tours on smaller catamarans normally used for whale watching. The scenery (even without naked women on icebergs) is unbelievably spectacular.
Trackback

Permalink

Post your comments »

Filed under:
Alaska Scenery