Thursday, May 19th, 2005 at 7:19 pm by Daniel
Long and busy day today. I left Juneau on the fast ferry Fairweather to Skagway, where I hooked up with Alaska Direct Bus Line (call 867-668-4833 in Whitehorse and ask for Henry, it's literally the only way to go from Skagway to Fairbanks by land) for the trip over the mountain to Whitehorse. Tomorrow it's on to Fairbanks — a long but very scenic bus ride.
Henry's bus today was actually a big van, since I was the only reserved passenger. That meant I got the front passenger seat for better views. Just past Canadian Customs, a very sleek-looking bear ambled across the road in front of us. And I do mean right in front of us: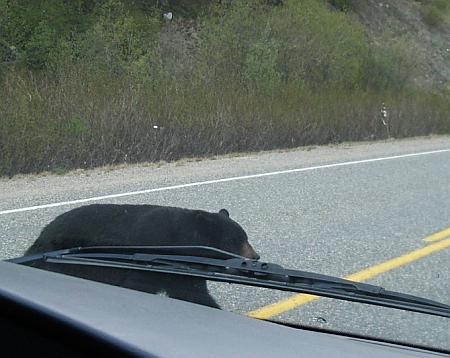 He didn't look at all hungry, the way spring bears tend to. Whatever he's been eating this spring, he found plenty of it: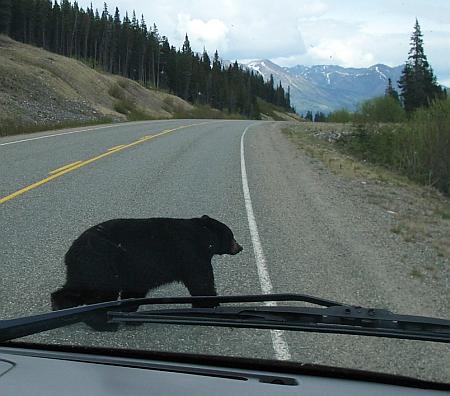 A long day, but fun. Now I'm kicking back in a Whitehorse motel drinking 7% peach-flavored apple cider from a two-liter bottle. Why don't they sell this stuff in the states?
Trackback

Permalink

Post your comments »

Filed under:
Alaska Life
,
Alaska Wildlife