Sunday, May 29th, 2005 at 7:45 am by Daniel
Back in Fairbanks, but had damn little time to blog so far. Brought Dad in on Thursday, but everybody at Badger Towing was gearing up to go racing at the Mitchell Raceway (motto: "Drive Fast, Turn Left.") My car needs a little work, but it will have to wait — when the racing season is about to start, nobody at Badger Towing has time for anything but racing (and, well, towing of course).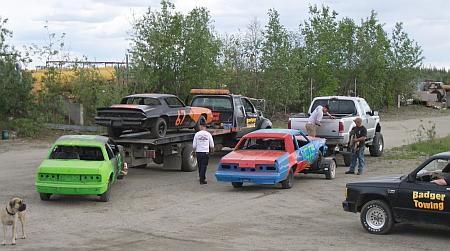 Here you can see everybody about to head for the track. Shawn's #67 Camero on the big black flat deck, the kids' car on the towbar. That's my sister in the support truck (well, it's a roadside assistance vehicle except during racing season) at the right edge of the frame. And of course, bottom left is the dangerous English Mastiff yard dog. (Her name is Kitty. Don't mess with her, or she'll eat the faces off all your stuffed animals.)
I took a lot of not-very-good pictures at the racetrack. Shawn did very well, as he generally does, and the children (rookies this year) got around the track quite creditably. Here's Shawn parading with the checkered flag: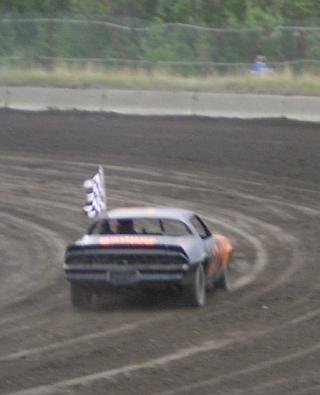 I was planning to enlist Shawn's help with some minor mechanical issues on my Oldsmobile. But now that I've driven it seven hundred miles and spoken warmly of it, he's threatening to do a fast-and-dirty one-day paint job. That will make it a long day….
Trackback

Permalink

1 Comment »

Filed under:
Alaska Life